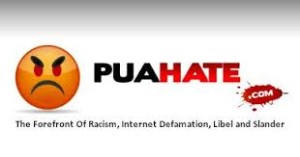 On Friday May 22nd a 22 year old by the name of Eilliot Rodger when on a massive shooting rampage out of his frustration of not being good with women.  I have seen him on puahate.com before with his idiotic/crazy posts. So the goal of this post is to clarify a lot of misinformation out there, and to give you my take. Lets' talk first about puahate.com and tell you what it is and what it is not. Puahate.com is a website dedicated to be the consumer watchdog to seduction companies and self help industry. The reason is the seduction industry is not regulated and there are a bunch of scammers, wanna bes and or marketers.
Puahate.com did an excellent job for a long time doing what it was suppose to do, and  they destroyed a lot of phony companies and took seduction teachings indirectly to a better level and a bit more transparency. However, sometimes they made shit up unfairly or took shit out of context, some of us in the community would go and defend ourselves some others did not. You could see guys like me, Good Looking Loser, Distant Light, Aaron Sleazy and others frequenting that site and setting the record straight. Others failed miserably trying to defend themselves like Mystery, Ross Jeffries, Allen Roger Currie, Ray Gordon etc…
Here is the problem the website allowed trolling which was fine, I encourage trolling in my blog and youtube channels, since i love trolling busting balls myself. That was not the problem, lets remember that there are different type of trolls:
Funny trolls: People read their stuff and they are funny, calibrated and know how to bust balls.
Annoying trolls: Like the title says they are not funny, annoying, and spam in hope for attention.
Mentally ill trolls: These are trolls that have deep psychological issues.
Angry trolls: These are trolls that hate everything.
Unfortunately, the shooting dude was a mentally ill angry troll who was on top of that sexually frustrated.
Now lets continue with puahate.com the forum 2 sections dedicated to what it was really suppose to do which were: Bash The Scene and Guru Personal Information (or something like this).
The other sections were subsections like: off topic, suggestions, shitty advice etc…
Now shitty advice was a section were people ask for advice about plastic surgery, nutrition, working out, seduction theories, social dynamics etc… But, what happened was that a lot of the crazy dudes that got kicked out from different forums started joining, this includes: racist,pedos, incels, mra, mtgow,miscers,ex-puas, depressed people and the scum of the earth. with that being said they had some no community dudes that were very good with women, but unfortunately they were a minority. That combined with all the trolling made it difficult to know who was giving good or decent advice and who was just trolling or being crazy. What made it worst, is that a lot of the crazy, delusional trolls had up to 50 different accounts with different names trolling, so it became a very crazy place. What you need to keep in mind is that this was just one subsection of the intend of the original forum. Also is worth pointing out, that they had rules against, pedo talk, racist talk(even joking), violence etc….
Unfortunately, if you were not mentally mature and you joined the "shitty advice" subsections it could get you addicted, depress and make you as crazy as some of the mentally ill dudes that were there, remember misery loves company. It is very sad cause they had excellent advice in improving physical aesthetics and a small % of very good seduction advice, some of that advice you can see in some of my videos and posts in this blog.
Moreover, it was a very funny and enjoyable website and had some of the funniest trolls I have ever seen. It is sad that due to one crazy person in the head they are getting all this unfair bad publicity.
Worst, is the owner Nicholas running like a little pussy and taking the site down, when he made a website trashing all the pick up companies when he can not take the heat himself which i find ironic.
Finally, This is a sad example of what the lack of success with women and people can lead someone to do. Please keep in mind that after physiological, biological and safety needs comes the social needs which includes the sense of belonging, affection, love- this can come from family, friends and romantic relationships.
Here is his last video: