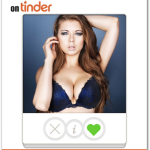 As you guys know I am big on not using your phone for texting, chatting with girls etc… Cause in my opinion is not efficient.
Recently I have been experimenting with online dating as a compliment to cold approach (of course cold approach pick up with live women 100 times superior to online dating specially the hotness of the women).  So I have been using pof and okcupid mainly due to the fact that you can use them on the desktop computers. I have hesitated doing tinder due to the fact that I hate texting on the cell phone.
But the good news is that now tinder is available via Desktop and is pretty cool and I highly recommend it for efficiency. I do not even use the mouse I just click (left arrow NO) and (right arrow yes)…. you can log in for free here.
P.S. Check out my boy Will Freemen book on how to get laid on tinder.
Here is a video with samples:
Out!