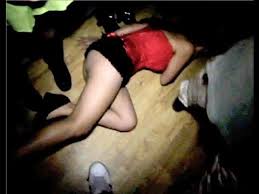 If you do dance floor game constantly like i do, you will encounter instances in which you are dancing with the girl and she will fall, you may be the one to fall or both of you fall together (unusual). This usually happens cause idiots go to the dance floor with drinks and they spill it all over the place. When women fall is very embarrassing for them, who are sensitive creatures to begin with.
So here are the basic steps:
1.- Pick her up by Gently grabbing her arm or both arms(this is better) and lift her up.
2.- Then, pick up her purse and/or her cell/stuff from the floor, do this fast.
3.-  Ask her if she is ok, she usually will say yes, though sometimes is really really bad.
4.- Keep dancing like nothing happened, and say something like: "shit happens, don't worry about it, nobody saw it".
5.- Use this as an opportunity to get her off the dance floor into isolation, like "lets get something to drink and chill a bit".
Last night I was dancing with the really hot girl and she felt hard, I followed the exact same steps I am advicing here, though she was extremely sensitive, and I was not in the motivational mood, so i just hooked up with another girl that saw me perform the steps above as a bystander, reason i am telling you this is cause is part of attractive masculine behavior on the dance floor. Even if you do not hook up with the girl that felt other girls may be observing. Out!