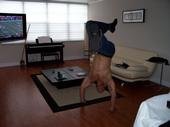 They call me Latin Diesel because of my resemblance to The Actor "Vin Diesel".  I am also known in the underground community of PUA'S (Pick Up Artists) as Skills*.  I have been doing dance floor game SUCCESSFULLY for almost two decades.
About ten years ago, as a joke, while in Barnes And Noble my girlfriend at the time showed me the book "The Game" by Neil Strauss. Out of curiosity I joined the Secret Society Of Seducers. I was very exited that there were other seducers like me in the world that got together to discuss pick-up. Unfortunately, as a natural i did not fit in. I could not relate to most of the mental masturbation and meaningless crap that was constantly posted in the PUA forums. Most of the ideas and techniques were kind of weak and counterproductive. Worst was all the bad advice when it came to dance floor/club game.
I started posting and giving my opinion on seduction, especially on dance floor game. I gained a small group of followers that encouraged me to share my ideas and my unique style. I got very curious about what was being taught in the community by the gurus when it came to dance floor game. My discoveries were shocking; most of the gurus avoided or did not cover the topic and advised against dance floor game, calling it a "trap". But that did not stop me! I really wanted to keep digging to see if there were community guys doing or teaching dance floor game.  I found some, but their techniques and game were extremely weak, their advice was vague and they lacked the experience (worst, they were not true naturals).
I decided to take it upon myself to teach what is effective, efficient and what really works in a way that is easy to understand. Unfortunately, as a natural, it was very difficult for me to learn how to break down interactions in simple steps between men and women like pick up artists do.  I spent a year and a half reading every piece of seduction material out there with the goal to learn how to break down game in simple terms. The result was a compilation of two decades of interaction seducing women on the dance floor, as well as some fundamentals of regular game, from different seducers and gurus, that apply to dance floor game in a book called: "Secrets Of Dance Floor Seduction" (The skills method.)
*A skill is the capacity to carry out pre-determined results often with minimum outlay of time, energy or both.